So this weekend, I had a grand plan of being all fancy and making macarons.
(Yea I looked it up... apparently macarons and macaroons are two VERY different things as this adorable diagram shows)
I've honestly never eaten one but I always thought they looked so adorable! And I figured if I made them all blue and yellow then all the better... GO BLUE! I looked at the recipe, saw the ingredients and was confident that this dessert was within my range of baking abilities. In fact, I was SO confident that I called a friend of mine to come over and reap the benefits of my baking!
Clearly such confidence could only yield brilliant results.
WRONG
Making macarons is a very delicate process that requires a lot more patience and skill than I had ever anticipated! And for that very reason, the adorable macarons I had been picturing in my head came out like this.
Exactly like you picture macarons in French Patisseries right?! I know... I was just as disappointed as you. It basically became some strange almond flavored fruit roll ups. Not at all appetizing. Now there was another problem... I had a TON of almond batter that clearly wasn't going to make macarons and no idea what to do with it. My cousin saved my ass and suggested I just convert them into almond cupcakes.
Honestly, I think it was my disappointment at failing to make macrons but I half heartedly made these cupcakes. So much so that I didn't even bother with my usual photo shoot of the final masterpiece. I have absolutely no photos of what they turned out to look like. Nada. Zilch. But imagine they looked something like this except light yellow and blue with little almond specs all inside.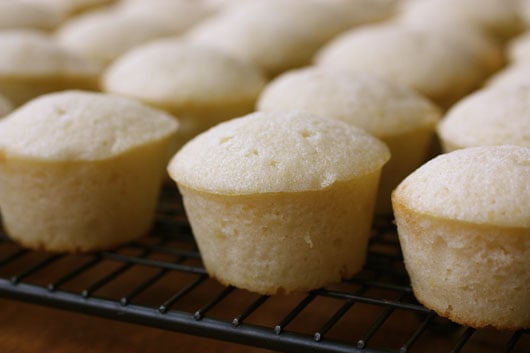 They weren't especially sweet cupcakes so I figured they needed some kind of topping to balance out the flavors. I went back and made some of my handy caramel bourbon sauce, which is just melted caramel, a little water, and some Caramel Southern Comfort. First off, it's heavenly and just a little boozy. Secondly, it basically takes you 2 minutes to make.
Finally having somewhat salvaged this disaster, I took the box of what I thought was my failures to work. After keeping it out in the lounge area, I quickly learned that the combination of almond cupcakes with caramel bourbon sauce works.... like really works.
Anyways, here's what I think was the makeshift cupcake recipe. More or less...
"Macaron" Almond Cupcakes
If the consistency doesn't seem like normal cupcake batter, add more flour. I kinda estimated the amounted needed and had to add more to my batter. But that may have only been because I was adapting from a macaron recipe.
Ingredients:
2/3 cup ground almonds
1 1/2 cups powdered sugar
3 large egg whites
5 tbsp granulated sugar
1 tsp vanilla extract
2 tsp baking powder
2 cups flour
1/2 cup melted butter
1 cup milk
Directions:
Preheat the oven to 375 degrees. Spray the cupcake pan with cooking spray and keep it aside.
Mix butter and sugar together and then beat in egg whites. Mix in the flour, ground almonds, and baking powder. Add in milk and vanilla and beat well. Pour batter into pan and bake for about 15 minutes or until you can poke a cupcake with a knife or toothpick and it comes out clean.